N.W.T. First Nation changes stance, now fully supports Enbridge's pipeline repair project
Liidlii Kue First Nation Chief Gerald Antoine says they've been consulted and no longer have concerns
CBC News Posted: Jan 09, 2018 4:26 PM CT Last Updated: Jan 09, 2018 4:26 PM CT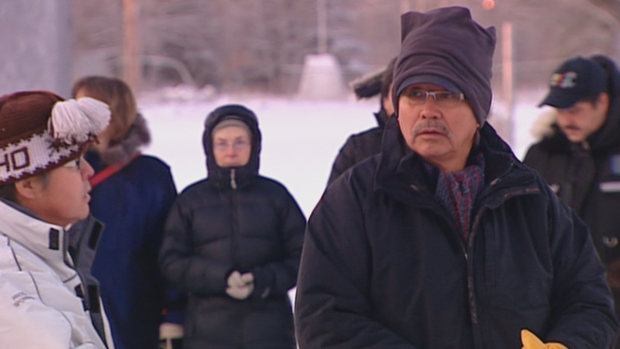 Chief Gerald Antoine of Liidlii Kue First Nation says he now supports Enbridge's project to repair their Line 21 pipeline. (CBC)
The chief of the Liidlii Kue First Nation says he now fully supports Enbridge's Line 21 project to replace a portion of the N.W.T. pipeline.
Chief Gerald Antoine announced at a hearing on Monday that Enbridge Pipelines Inc. and the First Nation reached two agreements — a Participation Agreement and an Environmental Management Agreement.
Enbridge shut down the pipeline in 2016 because it sits on an unstable river bank. The company then proposed to replace a 2.5-kilometre section of its Line 21 pipeline by drilling 100 metres underneath the Mackenzie River about 10 kilometres from Fort Simpson. The line runs 869 kilometres between Norman Wells, N.W.T., and Zama, Alta.

ENBRIDGE - LINE 21 SEGMENT REPLACEMENT PROJECT - Update November 17, 2017
In November 2016, Enbridge shut down Line 21 due to increased rates of slope movement around the south slope of the Mackenzie River crossing. In order to protect the pipeline and the surrounding environment in the event of further slope movement, Enbridge plans to decommission the segment of pipeline in the active slope and install a new section of pipe under the river, by using a horizontal directional drill, so that safe operation of Line 21 may resume. The reason we are doing this work is to protect the environment, protect the water, and protect the land. Pending regulatory approval from the National Energy Board (NEB) and the Mackenzie Valley Land and Water Board, Enbridge hopes to begin work in the first quarter of 2018.
Enbridge is committed to continued dialogue with local Aboriginal communities and stakeholders in the interest of sharing Project-related information and identifying and resolving any questions or concerns associated with planned activities.
You can get in touch with us any time:
By phone: 1-888-263-3654
By email: This email address is being protected from spambots. You need JavaScript enabled to view it.
On the web: www.enbridge.com/line21

This week, Celebrate Small Business Week offers financial literacy workshops in Deline, Tulita, Norman Wells & Fort Good Hope.

A representative from Crowe MacKay is touring the Sahtu to offer these great workshops.
In Partnership With:


In Partnership With:
Dominion Diamond investors OK $1.2B US sale to Washington Companies
Shareholders expected to receive $14.25 US per share in cash when acquisition closes
The Canadian Press Posted: Sep 19, 2017 12:01 PM CT Last Updated: Sep 19, 2017 12:01 PM CT
Feds announce $7.4 million to help fund geoscience research across the North
Funding will provide direction for mining, infrastructure and climate change adaptation
By Sara Frizzell, CBC News Posted: Sep 15, 2017 4:53 PM CT Last Updated: Sep 15, 2017 4:53 PM CT
Long-awaited N.W.T. mining road through national park gets thumbs up from review board
All-season road for Prairie Creek heads to minister for final approval
CBC News Posted: Sep 14, 2017 3:38 PM CT Last Updated: Sep 14, 2017 3:38 PM CT

N.W.T. mineral exploration funding more than doubles in 'competitive' year
Increased demand for funding reflects better mood in exploration capital markets, chamber of mines says
By Walter Strong, CBC News Posted: Jun 12, 2017 3:37 PM CT Last Updated: Jun 12, 2017 3:37 PM CT
Mining exploration companies in the Northwest Territories are getting a bigger boost than expected from the territorial government this year, after almost $1 million in exploration funding was announced last week — more than double the money available last year.
The money is intended to stimulate mineral exploration in the N.W.T., and it seems to be having its desired effect. Requests for funding were up 152 per cent over last year.
Imperial Oil announced it was suspending its oil production in Norman Wells earlier this year
By Mike Gibbins, CBC News Posted: May 01, 2017 8:12 AM CT Last Updated: May 01, 2017 8:12 AM CT
The Northwest Territories Power Corporation (NTPC) is now generating electricity for the town of Norman Wells, taking over from Imperial Oil.
For the past 28 years, power generated by Imperial Oil was sold to the NTPC, which the power corporation then used to supply the town with electricity.
But Imperial Oil announced it was suspending production at its field in Norman Wells earlier this year, raising questions about how the community of about 800 would be powered.

Imperial Oil to suspend Norman Wells production due to continuing pipeline shutdown
Mayor, bracing for employment dip, says town is 'due for some belt-tightening'
By Guy Quenneville, CBC News Posted: Jan 26, 2017 4:21 PM CT Last Updated: Jan 26, 2017 4:32 PM CT
Imperial Oil says it will suspend oil production at its field in Norman Wells, N.W.T., in response to the continued shutdown of the Line 21 pipeline to Alberta.
The company says the shut-in will begin next month, transitioning the operation into a care and maintenance phase. The company had already reduced production at the site to a minimal level.
The moves come as Line 21 — which is owned by Enbridge and carries oil from Norman Wells to Zama, Alta. — remains shut down after more than two months. The line was shut down due to concerns about ground stability at a section of the line near Fort Simpson.
Lisa Schmidt, a spokesperson for Imperial Oil, says the decision to shut in the field does not preclude its reopening but could not say whether a revival of the pipeline would prompt Imperial Oil to re-start production in Norman Wells.

Just last month the Town sent out tender packages through an Engineering firm for the bidding to commence on one of the largest, most significant and important construction projects ever done by your local Municipal Government. Repairs to the sewage lift stations and associated components of our sewer systems may not be all that sexy, but I would suggest that after clean and safe drinking water it's arguably the second most important Town facility.
This is expected to be a very high priced and long overdue project that will provide some local employment and much needed economic stimulus! "
In the last few months of 2016, as many of you know, Norman Wells was lucky to have the Reel Youth project visit us and work with our local Youth and Elders for two weeks. In the time they were here, Reel Youth worked alongside our participants and volunteers to create a total of 13 films; three youth and elder documentaries, ten animations and a Norman Wells Tourism Video. This project engaged 75 of our local youth and it is heartening to see the final products of their hard work. If you didn't get a chance to attend the film festival for these films' premiers, I encourage all of you to take some time, go online and view these wonderful pieces. All the films can be viewed on the Reel Youth website at: http://reelyouth.ca/normanwells2016.html. The tourism video can be viewed on YouTube at: https://youtu.be/8G_NaeFezCg.